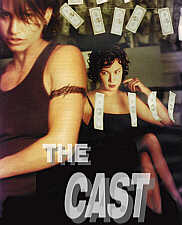 GINA GERSHON (Corky) ist am 10. Juni 1962 in Los Angeles geboren und auch dort aufgewachsen. Später zog sie nach New York, wo sie das Bakkalaureus der philosophischen Fakultät an der Universität in New York erhielt. Auf der Bühne spielte sie in Stücken wie "Camille," John Robin Baitz's "The Substance of Fire" am Long Wharf Theater und William Mastrosimone's "Nanawatai" an dem Los Angeles Theater Center. Sie war auch in einigen Produktionen der New Yorker Theater Gesellschaft 'Naked Angels' zu sehen. Über eine Los Angeles 'Naked Angels' Produktion im Juni 1994, schrieb die Zeitschrift 'Variety': "Einige Schauspieler von dem 20-köpfigen Cast übernahmen mehrere Rollen, jedoch machte das niemand so geschickt wie Gina Gershon."


Actress filmography

1986 Pretty in Pink .... Girl Friend/Gym Class
1986 Stark: Mirror Image (TV)
... aka Stark II (1986) (TV)
1986 3:15
... aka 3:15 the Moment of Truth (1986)
1987 Sweet Revenge .... K.C.
1988 Red Heat .... Cat Manzetti
1988 Cocktail .... Coral
1989 Suffering Bastards .... Sharnetta
... aka Liars Club (1989)
1989 Monsters: Jar (TV) .... Ann
1990 Voodoo Dawn .... Tina
1991 Out for Justice .... Patti Madono
1991 City of Hope .... Laurie
1992 Sinatra (TV) .... Nancy
1992 The Player .... Whitney Gersh
1992 Miss Rose White (TV) .... Angie
1993 Love Matters (TV) .... Heat
1993 Joey Breaker .... Jennie Chaser
1994 Flinch .... Daphne
1995 Showgirls .... Cristal Conners
1995 Best of the Best 3: No Turning Back .... Margo Preston
1996 This World, Then the Fireworks .... Carol Lakewood
1996 Bound .... Corky
1997 Touch .... Debra Lusanna
1997 Original Sin
1997 Face/Off
1997 This World, Then the Fireworks

TV Guest Appearances

"Melrose Place" (1992), as Callgirl/waitress
"Ellen" (1997), as ??
('The Puppy Episode' (4/30/97))


JENNIFER TILLY (Violet) hat schon viele erfolgreiche Auftritte auf der Bühne, Leinwand und Fernsehen zu verzeichnen. Doch es war ihre Rolle als Olive, die wimmernde Möchtegern Schauspielerin in Woody Allen's "Bullets Over Broadway", die sie empor schoss. Sie wurde nominiert für einen Academy Award für die Kategorie Best Supporting Actress, erhielt eine American Comedy Award Nomination für dieselbe Kategorie, und jede Menge anhimmelnde Kritiken von Publikum und Kritikern.

Für's Fernsehen trat sie in der Fox Serie "Key West" mit Fisher Stevens auf, und in der ABC Serie "Shaping Up" mit Leslie Nielsen. Sie spielte in Showtime's "Heads" mit Jon Cryer, für welches sie eine Gemini Award Nomination erhielt für die beste Schauspielerin. Sie hatte auch wiederkehrende Rollen in "Hill Street Blues" als Gina, und in "It's Garry Shandling's Show" als Angelica, Shandling's Freundin (für welches sie eine Cable ACE Award Nomination erhielt). Andere Fernsehauftritte beinhalten "Moonlighting", "Cheers" und "Dream On".

Jennifer erhielt einen Theater World Award für ihre Arbeit in Tina Howe's Stück "One Shoe Off" am Joseph Papp Theater. Andere Bühnenauftritte hatte sie mit "Boy's Life" und "Tartuffe" am Los Angeles Theater Center, "Baby With the Bathwater" und "The Wool Gatherer" am Los Angeles Public Theater, und "Vanities" für welches sie einen Dramalogue Award erhielt.


Actress filmography
1984 No Small Affair .... Mona
1984 "Shaping Up" TV Series .... Shannon Winters
1985 Moving Violations .... Amy Hopkins
1986 Inside Out
1987 Remote Control .... Allegra
1987 He's My Girl .... Lisa
1988 Rented Lips
1988 Johnny Be Good .... Connie Hisler
1988 High Spirits) .... Miranda
1989 Let It Ride .... Vicki
1989 Far from Home .... Amy
1989 The Fabulous Baker Boys .... Blanche 'Monica' Moran
1991 Scorchers .... Talbot
1991 The Doors
1992 Shadow of the Wolf .... Igiyook
... aka Agakuk (1992)
1993 The Webbers .... Miranda Webber
... aka At Home with the Webbers (1993)
... aka Webber's World (1993)
1993 Made in America .... Stacy
1993 Body Snatchers .... Body Double Meg
1993 "Key West" () TV Series .... Savannah Sumner
1994 Heads (TV) .... Tina Abbot
1994 The Getaway .... Fran Carvey
1994 Embrace of the Vampire .... Marika
1994 Double Cross .... Melissa
1994 Bullets Over Broadway (S:AAN) .... Olive Neal

1996 The Pompatus of Love .... Tarzaan
1996 Man with a Gun .... Rena Rushton, Kathy Payne
... aka Hired for Killing (1996)
1996 House Arrest .... Cindy Figler
1996 Edie & Pen .... Edie Piper
1996 Bird of Prey
1996 American Strays .... Patty Mae
1996 Bound .... Violet
1997 Liar Liar .... Samantha Cole

TV Guest Appearances

1990 "Dream On" as Ryan
(ep. 'What Women Want (8/15/92)')
1985 "Moonlighting" as [unknown]
(ep. 'Plastic Fantastic Lovers (1/10/1989)')
1982 "Cheers" as [unknown]
(ep. 'Second Time Around (2/6/86)')
1981 "Hill Street Blues" as Gina Srignoli
(ep. 'Passage to Libya (2/14/1985)')
1981 "Hill Street Blues" as Gina Srignoli
(ep. 'El Capitan (2/21/1985)')
1981 "Hill Street Blues" as Gina Srignoli
(ep. 'Davenport in a Storm (1/31/1985)')
1981 "Hill Street Blues" as Gina Srignoli
(ep. 'The Life and Time of Dominic Florio Jr., (3/21/1985)')
1981 "Hill Street Blues" as Gina Srignoli
(ep. 'Queen for a Day (3/11/1985)')
1981 "Hill Street Blues" as Gina Srignoli
(ep. 'The Rise and Fall of Paul the Wall, (12/6/1984)')

JOE PANTOLIANO (Ceasar), geboren in Hoboken, New Jersey, hatte seine erste professionelle Rolle im Film "Einer flog übers Kuckucksnest" als Billy Bibbit. Weiter spielte er in über 40 Off-Broadway Produktionen, inklusive "Vision of Kerouac" am Lion Theater, "The Death Star" am Theater of St. Clements, "The Off-Season" am New Dramatists Guild und "The Kitchen" an der Schauspiel Hochschule bevor er nach Los Angeles zog im Jahre 1976.

TV Auftritte hatte er in Serien wie "McNamara's Band", "Free Country", "NYPD Blue", "L.A. Law" und "Civil War". Er erhielt eine Cable ACE Nomination als Bester Schauspieler für eine Episode von HBO's "Tales From the Crypt" unter Regie von Richard Donner. Ebenso agierte er in HBO's "El Diablo" und in der NBC Serie "The Fanelli Boys."

Auf der Leinwand spielte er schon in über 60 Filmen. U.a. in Taylor Hackford's "The Idolmaker", "The Final Terror", "Eddie and the Cruisers", "Risky Business", "The Mean Season", "Goonies", "Running Scared", "La Bamba", Steven Spielberg's "Empire of the Sun", "Used People", "Midnight Run", "Baby's Day Out", "The Fugitive", "Bad Boys" und "Congo."

Auf der Bühne gewann Pantoliano den Dramalogue Award und war nominiert für einen Drama Critics Circle Award als Bester Schauspieler für seine Darstellung von Philip, den zurückgebliebenen Bruder in "Orphans". Er erhielt seinen zweiten Dramalogue Award als Bester Schauspieler für "Italian American Reconciliation".




JOHN RYAN (Mickey) spielte in "Runaway Train", "Hoffa", "The Cotton Club", "The Right Stuff", "The Postman Always Rings Twice", "Breathless", "Missouri Breaks", "Death Wish IV", "Five Easy Pieces", "The King of Marvin Gardens", "It's Alive" und "Shamus," u.a.

Auch spielte er in Fernsehserien wie "Miami Vice", "Archer", "Kojak", "Starsky & Hutch" und "Matt Houston" nur um ein paar zu nennen. Seine Auftritte in Fernsehfilmen beinhalten "Blood River", "Rip Van Winkle", "Gone to Texas", "Death Scream", "Kill Me Again If You Can" und "A Killing Affair".